My Wisconsin Minerals
Wisconsin is not noted for many Gem Minerals. We do have a few old lead mines in the South Western part of the state. Their is all so Iron ore in the north in the Montreal area. The Montreal Mine was one of them. It is the deepest iron ore mine in the world at over one mile deep. This is a photo of a piece of Hematite from that mine.
You can find Lake Superior Agates in the north western part of the state.

The Rib Mountain area is a good place to collect at. You can find Smoky Quartz, Garnets, Wisconsin Moonstone, and Gold to name a few.
I found this nice rock with Smoky Quartz right in my back yard that gave up 32 crystals so far that where lose from the work of the frost of winter. I was looking at the rocks around here and seen a strange pocket of a red clay so I used a screwdriver to clean it out and these crystals started to fall out. So you see you never know what you will find in your back yard.
Just in the last past 15 years Copper deposits have been found in WI. The first one that was to be mined was the Flambeau near Ladysmith. They took out Copper down to 4%, along with Gold and Silver.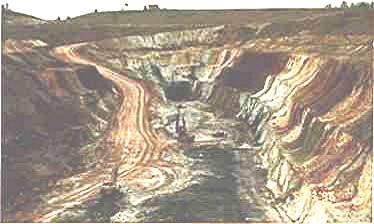 The mine is now filled in along with 4% Copper and less. May be at a later time they will come back and mine here again. This mine is only 150 feet from the Flambeau River. At the end of the area that they could go to near the river is a rich vein of Gold that they can not touch. The area of Copper is in a 20 mile area. This was the main pocket.

These have Gold, Silver and Copper in then from the Flambeau Mine that I got when I was there while it was still open.
This is from the Lucky Friday Pocket of the Flambeau Mine Ladysmith, WI
I have to thank Jim Butterbrodt for this fine mineral.
The Crandon area has a Zinc deposit.

This is the last standing Head Frame left in WI, this is at the Plummer Mine in Northern WI.
Here is some more WI minerals given to me from Jim Butterbrodt Thank you Jim for these fine minerals.





These are from the Vulcan Quarry Racine, WI

Antigorite Location ?

This is WI Jade


This is WI Moonstone from Near Wausau, WI


These are from Rib Mountain in Wausau, WI

There is Gold in this Quartz found at the Reef Deposit near Wausau WI

Gold in Quartz found near Wausau WI





Wisconsin Moonstone found at Wausau WI