September Newsletter 2013
Gold Fever !!! <![if !vml]>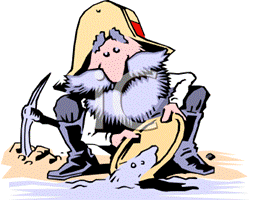 <![endif]>
Tomah Wisconsin GPAA Chapter – September, 2013
Welcome
Welcome to the 2013 GOLD FEVER Newsletter. The Tomah, Wisconsin GPAA Chapter newsletter is your newsletter, please let me know what you would like to see in it, we hope to bring you more information in the coming year.
I hope you enjoy the information and articles included in this newsletter. You can receive this Newsletter by mail, by either attended a meeting, or sent a book of stamps for postage.
We are also always looking for speakers. If you have taken a trip or just have a story about somewhere, we would like to hear about it. You do NOT need to be an expert speaker; everyone likes to hear about what other members are doing.
Do not forget the Newsletter and pictures can always be found at :
www.huntforgems.com/gpaatomahwi/
President's Message
Since our last outing I have attended the Snyder lake outing for the Wausau club, gone to Canada fishing, attended the gpaa gold and treasure show in Pecatonica but I missed the state panning contest in Nekoosa. I haven't found the time to look at and concentrates in almost a month but I bought some more at the gold show. Don't know when I'll find time to work it as hunting season starts soon. Summer went way to fast again. Hope you had more time than I did to prospect.
See you in the creeks Mike Fait <![if !vml]>
<![endif]>
Tomah Wisconsin GPAA Chapter Minutes for August, 2013
Old Business: Last month no meeting. Twenty one current members attended the Gold and Treasure Show in Pecatonica, IL. Last month we also signed up seven new members to our club. A big thank you goes out to Richard Niemyjski, Larry Bender and my wife Gayle for helping in our booth.
Also a thank you goes out to Richard Hanson for donating a banner to the club. Richard is a former president of the club, he is now traveling to all the gold shows and handling all the GPAA products for them that way they don't need to staff their crew so heavily saving them some money.
Chip Yorde and he husband showed up and talked to us. Chip has been the cook for the Alaskan expedition for years. This year she couldn't make it as her husband had a brain tumor that needed sugary. They both plan to go back to Alaska next year.
There were 515 attendees on Saturday and not quit that many on Sunday. It was warm in the building that could have kept people home. The club bought some pans, snuffers and gold for future raffles.
New Business:
September's meeting will be on the 3rd Saturday of September on the 21st at 1:00 pm.
Guest speaker – We are still looking for a guest speaker for this month. Please let Mike know of you know of anyone that would talk about their adventures.
Donations to the raffle were from: We thank all of you.
Raffles: (There were no raffles or drawings at the show.)
Raffles are a lot of fun and the proceeds help the club continue to function. Between the Table raffle, Gold raffle, and 50/50 raffle – most everyone is guarantee to win something. Thank you.
Gold Price on 07/2813 was $1377.90 Silver Price was $23.28
Respectfully submitted by Diane North – Secretary & Newsletter Editor
<![if !vml]>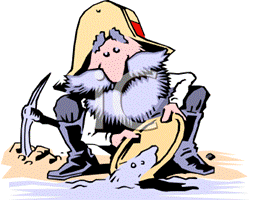 <![endif]>
Iowa Gold Sites
There are many locations within Iowa where gold can be found. In general, the gold in Iowa is relatively fine (flour gold) compared to other states, but it does exist none the less! Gold is present from glacially deposited material that covers much of the state.
It is supposedly from Minnesota and Canada, with the glaciers eroding those gold rich rocks, mixing them with other rocks and depositing them in Iowa. The largest concentrations are along rivers and streams that cut through these glacial deposits. Focus on deposits of "black sand" and especially in areas of dark red, iron oxidized and hematite rich areas above creek banks...these will typically always provide the richest returns with occasional flakes!
Here are some locations gold has been reported:
Adel: Flour gold can be found along the Raccoon River and tributaries near Adel in Dallas County. (have found fine glacial gold in nearby tributaries.)
Bush Creek & the Volga River: Fayette and Clayton Counties.
Des Moines River: Near Pella, Douds and Farmington. Fine gold has been found near the Pella-Harvey bridge just North of Harvey. The fine gold is usually found in the sand layer in the river bank.
Douds: Check local bodies of water, rivers and streams. Especially the Des Moines River.
Eldora: Gold was reportedly found 7 miles north of the town along the Iowa River and also south of town. It is also the site of one of the few minor "gold rush" areas in the state. READ THIS fine article.
Farmington: Check local bodies of water, rivers and streams, especially the Des Moines River.
Fayette County: Glacial deposits of gold can be found along the Volga river.
Hardin County: Gold was reported found in this area around 1877 by old prospectors and there are also reports that they buried their gold nuggets along the Iowa River.
Iowa River: In Hardin County around Iowa Falls. Fine gold has been found about 2.5 miles Northwest of Le Grand at the Three Bridges County Recreation area. The area has been on the north side of the river, just west of the old 1880s bridge found in the center of the park.
Little Sioux River: Klondike in Lyon County (One of Iowa's only commercial gold mining ventures).
Okoboji: Gold can be found in the various Lakes in the area. (have found some very fine glacial gold on a shoreline.)
Otter Creek: Near West Union. In 1904, the Iowa Geological Survey Annual Report XV stated that $1-$1.50 worth of gold could be panned from Otter Creek by a patient washer in a day. (Gold was around $20.50 an ounce at that time).
Skunk River: Some flake gold has been found in the South Skunk River, Southwest of Newton and near Highway 14.
Steamboat Rock: Hardin County.
Wadena: 4 miles west of town off of a gravel road.
Yellow Banks State Park: Located near Altoona. Gold supposedly found nearby.
Items for Sale:
Tomah Gold Club t-shirts – with Gold Club emblem and created either with your personal name or without your name. Contact Mike Fait if you are interested.
Officers
President – Michael Fait ( mgfait@charter.net) 715-384-9265
Vice-President – Gary Morrison 715-316-2160
Secretary – Diane North ( dbnorth@centurytel.net) 608-635-7031
Treasure – Gayle Fait ( mgfait@charter.net) 715-384-9265
Outing Chairman – Richard Niemyjski ( richnski@frontiernet.net) 608-637-3295
Claims Director – Richard Niemyjski ( richnski@frontiernet.net) 608-637-3295
State Director – Mike Flint ( mwink12@excite.com) 608-372-0694
Upcoming Events
September 21, 2013 – Club Meeting at Town of LaGrange Town Hall – at 1:00 pm
October 11-13, 2013 - Wausau Gem, Mineral and Fossil show Fri 12-5 sat 9-5 sun 10-4 - East Gate Hall, Marathon Park - 2101 Stewart Ave. Wausau, WI
October 19, 2013 – Club Meeting at Town of LaGrange Town Hall – at 1:00 pm
September 27-29, 2013 - Parrish Outing - Wausau Club
Wisconsin Area Clubs
Greenbush Wisconsin GPAA Chapter – holds their meetings on the 2 nd Saturday of each month at 3:00 pm in the Greenbush Town Hall, N644 Sugarbush Rd, Greenbush Wi. – Contact: Ron Smith 920-207-4092
Midstate Metal Detecting Club – meets every 3 rd Wednesday at 7:00 pm at Shooters Bar and Restaurant at the intersection of Hwy 39 and 54, next to the Shell Station. Contact: Steve Miller 715-572-1845
Wausau Prospectors – meets the 1 st Saturday of the month at 11:00 am in the community room at Cedar Creek Mall next to I-39 just north of Gander Mountain. Take I-39 exit 185. Contact: Kurt Bublitz 715-340-2831 or e-mail lizzy101@charter.net
Wisconsin Northwoods Adventures GPAA Chapter – holds their meetings on the 2 nd Saturday of every month at 11:00 am, at B.S. on Main, 34 N Main St. Rice Lake, Wi. Contact: Mike Wiersma 715-833-7603
MAY THERE BE GOLD IN EVERY PAN !!!!