Gold Fever!!!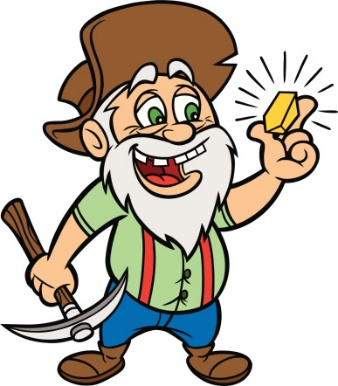 Tomah Wisconsin GPAA Chapter – March 2018
Welcome
Welcome to the 2018 GOLD FEVER Newsletter. Another year, another gold prospecting opportunity. If you have not tried to find gold, you need to give it a try. Let us know if you need help to get started, there are many people with experience that the help you.
Do not forget the Newsletter and pictures can always be found at:
www.huntforgems.com/gpaatomahwi/
President's Message
Hi all. Thank you Dave Ambrose for your demonstration of your miller table. It takes time to clean up 50 mesh and smaller gold. The table made for a relaxing cleanup. Just don't be in a big hurry.
The weather is still unsettled so if we have a storm coming up on a meeting weekend. I will call as many of you as I can if we are going to cancel a meeting. It has only happened once in all the years we have been a club, we have been very lucky so far. It's not worth it to risk our lives on slippery roads in winter!
I have been watching videos on how to install the gold hag matting I bought at the Indianapolis gold show. I have had some problems and will show everyone at next month's meeting how it should be done.
I will see you in the creeks whenever they thaw. Mike Fait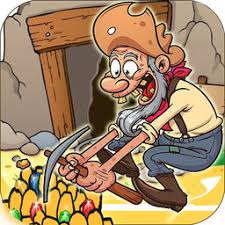 Upcoming Events
March 3, 2018 - Wausau Prospectors – Meeting/Program – Alaska Gold by Dean Race.
March 17, 2018 at - Tomah Club Meeting Town of LaGrange Town Hall – at 1:00 pm - Mike Fait - Gold Hag Matting
April 7, 2018 - Wausau Prospectors – Meeting/Program – Metal Detecting by Steve Miller
April 17, 2018 - Tomah Club Meeting Town of LaGrange Town Hall – at 1:00 pm
May 5, 2018 -- Wausau Prospectors – Meeting/Program – Swap Fest/Prospecting for Diamonds in Glacial Material.
May 19, 2018 - Tomah Club Meeting Town of LaGrange Town Hall – at 1:00 pm
Tomah Wisconsin GPAA Chapter Minutes February 17, 2018
Old Business:
The January meeting was held at the Town Hall at the Town of Lagrange, 22731 Flint Ave. on Route #21 west of Tomah Wisconsin on February 17, 2018, 18 members and guests attended.
Next meeting February 17 – Mike Fait will discuss Gold Hag Matting.
Dave Ambroe's demonstrated th Mad Max – Fine gold recovery machine, he won at the Indianapolis gold show. The paydirt needs to be classified down very fine to have this machine to recover gold. Thank you.
Please bring a dish to pass.
New Business:
Other outings to look forward to are the Wausau chapters outing to Okanagan Michigan June 1-2-3 for copper hunting, or maybe some gold exploration in the area. August outing to Snyder Park in Clark county August 3-4-5. They are also having a metal detecting outing May 12 in the Owen area. We are having a metal detecting outing May 19 site to be determined yet.
Raffles:
50/50 raffle - Larry Ehrenberg
Gold Raffle - Gold Nugget: Richard Powell 1oz silver round (donated by Richard Niemyjski): Larry Ehrenberg Chicken Alaska concentrates bag: Scott Huber Gem Bag : Mike fait
Special thanks to all who brought raffle prizes, Thank you to all that donated items for the Table Raffle – Larry Bender, Richard Powell, Mike Fait, Lisa Fait, Richard Niemyjski, Diane & Bill North, John Schwingle, Jeff Hastings, Diane Kollins, and Merlin Meyer. Hope I didn't miss anyone.
Gold Price on 2/26/18 was $1,332.90 Silver Price on 2/26/18 was $16.64
Respectfully submitted by Diane North – Newsletter Editor
Tomah Gold Club e-mail:
Sent: 06-Feb-2018 01:22:55 +0000
Subject: Prospector Casting
Mike -
Found your profile on the Gold Prospectors of America Association site. I work for a TV production company in LA named Outpost Entertainment, we produce TV series for places like HISTORY CHANNEL and NAT GEO. We're currently developing a new series around prospecting and are looking for some seasoned prospectors to possibly feature. Is this something you would be interested in talking about? Or maybe know some people that would be who are actively prospecting.
Thanks!
Tiberius Nour
Outpost Entertainment
310.388.7490
********************************************************************************
Sent: 08-Feb-2018 17:18:00 +0000
Subject: chapter invitation
Dear fellow gold miners,
I am with the Snake River Chapter of the Gold Prospectors Association of America. We are hosting an interstate interchapter outing at Blue Bucket LDMA and would like to invite any miner from across the nation to attend. Attached you will find the invitation letter detailing what is scheduled to happen as well as the preregistration form. We would ask that you present it to your members and if any of them would like to attend please get in touch with us. The blue bucket will also be hosting their national dig the weekend before and we would love to see you attend both and have a wonderful vacation of mining.
Hope to see you there and thank you for your assistance in this matter.
Jenny Whitmore
Idaho State Director
aststdrgpaaid@gmail.com
208-410-9949
Dear Fellow Miners, Friends and Sister Chapters,
My name is Jenny Whitmore, State Director for GPAA in Idaho. I have been working with the Snake River Region Chapter of the GPAA located in Twin Falls Idaho, in developing the Snake River Invitational at Blue Bucket LDMA in Oregon. This event is a multichapter, multi-state event and we would like to invite and encourage any member of GPAA, LDMA, any member which has not joined the national GPAA as well as any friends or family to attend and learn more about mining. Our goal is to edify the chapters and strengthen the local miner.
There will be a minimal charge to each attendee. The cost for this weekend of enjoyable mining entertainment is $25 per attendee or $50 per family (immediate family). Blue Bucket has room for many RV trailers, but there are only 24 hook-up sites. The available connections are 50/30/20 Water & Electric $15 daily, 30/20 Water & Electric $12 daily, 30/20 Electric $8 daily, 50/30/20 Electric $10 daily and Dry Camping is $3 daily. Sites can be reserved on a first come first serve opportunity by calling the Blue Bucket Camp Hosts. Once all sites are reserved all other attendees will be assigned to dry camping. Water is available for participants, along with access to the club house and restrooms (showers are closed during events). Each trailer would need to be an individual unit. Non-LDMA members may arrive one day prior to event (May 31, 2018) and stay one day after event has ended (June 5, 2018), but you will be subject to the daily site. We would appreciate it if you would arrange this with the Blue Bucket camp at bluebucket@goldprospectors.org, or by calling the caretaker Robert "Squirrel" and Julie Fegan at 541-869-2455. (The Fegan's are overseeing LDMA Stanton Camp until May 1st, so please call 928-427-9908 to make your reservations for Blue Bucket Invitational Event.)
The Snake River Invitational will be held on June 1-4, 2018 for all participants to enjoy. At this adventure will be a common area to obtain your material for processing during the morning and then we are hosting a recreational time from two to four in the afternoon. During the recreational time, there will be some games for the children, as well as classes for any miner to attend. You may pair up with a friend or process your own material, either way, our desire is to enjoy the fun and comradery of fellow miners. If you have any trouble or want some help in improving your skills as a miner, we will have many seasoned miners present, including a state director and a former state director please ask any of us and we will be more than happy to assist you in improving your recovery.
Our itinerary for this event is
Friday, June 1
Arrival and welcome
Settle in and set up
7pm. Welcome at the clubhouse
Saturday June 2
Morning Mining Time
2 pm. Kids Games and Metal Detecting with a treasure hunt involved.
6 pm Invitational Picnic and raffle-Bring your plate, silverware, chair,
drink and a dish to pass.
Sunday, June 3
Morning Mining time
2 pm. Kids Games and Equipment question and answer time. The class will be covering
High Bankers, Gold Cubes and Power Sluices.
9 pm. Bonfire and marshmallow roast for the kids if you have chapter
questions feel free to bring them.
Monday, June 4
Morning Mining time
Your departure is on your schedule. If you need assistance connecting and leaving, please ask.
Our desire is to edify, strengthen and empower every chapter and member so we are working on inviting vendors to attend our invitational. If you would like to invest in a new piece of equipment or purchase your national membership, they will have those available.
A new development we have this year is the Snake River Invitational has been paired with the Blue Bucket LDMA National Dig for an even greater mining adventure. On May 23-27, 2018, there Blue Bucket LDMA will host its national dig. We hope you will attend this adventure and stay for the Snake River Invitational the next weekend. During the four days in between these adventures, we will have short day trips planned to the Sumpter Dredge, Rockhounding Expeditions and possibly more. If you desire to attend both adventures you will be responsible to pay for your site for the days between the outings and dry camping will cost $3 per day.
We would ask that if you are desiring to attend our Invitational, please complete the pre-registration, including your payment, form attached to this letter, so we can begin our plans. Please send it to our chapter President, Eric Whitmore, at 3887 North 2600 East, Twin Falls, Idaho 83301. When you arrive, each participant will need to check in at the clubhouse where you will receive the rules of the property and we can maintain an accurate count in case of an emergency. I would appreciate your information returned to me by May 1, 2018, to be able to make our plans and preparations appropriately. After May 1, 2018, you are welcome to come, please be advised that the fees will be $40 per person and $80 for the family. If anyone desires to attend after that date I would simply ask that they contact us either by email or phone. Our contact information is Eric-snakerivergpaa@hotmail.com, Jenny-aststdrgpaaid@gmail.com or a phone call at 208-316-3495. We will be more than happy to accommodate them but must adjust our plans. We want everyone to have a wonderfully enjoyable experience and hopefully make some more friends.
Strengthening our Mining Community, family, and friends,
Eric and Jenny Whitmore
Idaho State Directors for GPAA
---------------------------------------------------------------------------------------------------------------------
Prospecting Tips - more next month
Officers – elected for 2018.
President – Michael Fait (mgfait@charter.net) 715-384-9265 (Cell phone to be used only on meeting days = 715-305-8319)
Vice-President – Gary Morrison 715-316-2555
Secretary – Jeanne Morrison 715-316-2555
Newsletter Editor - Diane North (dbnorth@centurytel.net) 608-635-7031
Treasure – Gayle Fait (mgfait@charter.net) 715-384-9265
Outing Chairman – Jeff Hastings (monkeyhast@frontier.net) (608) 637-3097
Claims Director – Richard Niemyjski (richnski@frontiernet.net) 608-637-3295
State Director – Mike Flint (mwink12@excite.com) 608-372-0694
APPROVED DEALERS:
Deer field Detectors. Dealer for Whites, Fisher, Garrett, Minelab, Bounty Hunter, Detector Pro Detector & Pinpointers, Sunray Detector Accessories, & many misc. detecting accessories. Deerfield Detectors, N3091 CTY Rd. B, Hancock, WI 54943 (715) 572-1845 or e-mail stmill@uniontel.net or http://www.deerfielddetectors.com/
Wisconsin Area Clubs
he Kettle Moraine Prospectors of Wisconsin – We still meet in the Community Center in Plymouth, Wi. on the second Saturday of the month, providing the church doesn't have something else on their schedule .- 1:00 PM Meetings Contact: Chuck Riel – 414-328-3194 or visit wisgold.org/index.html
Midstate Metal Detecting Club – meets every 3rd Wednesday at 7:00 pm at Shooters Bar and Restaurant at the intersection of Hwy 39 and 54, next to the Shell Station. Contact: Steve Miller 715-572-1845
Wausau Prospectors – meets the 1st Saturday of the month at 11:00 am at the Village Town Hall in Brokaw Wisconsin. Address is: 218 2nd St., Brokaw, WI. Take US 51 north of Wausau and take exit 197. Then go east on county road WW. At the 4 way stop in Brokaw take a right. You are there (just past the Credit Union). Contact: Kurt Bublitz 715-340-2831 or e-mail lizzy101@charter.net
Wisconsin Michigan Prospectors.GPAA Chapter – holds their meetings on the 2nd Saturday of every month at 11:00 am, at meeting location for the next few months at Newinghams Supper Club at 722 Main St. Wausaukee, WI 54177. Contact Ron Smith.
MAY THERE BE GOLD IN EVERY PAN !!!!