Gold Fever!!!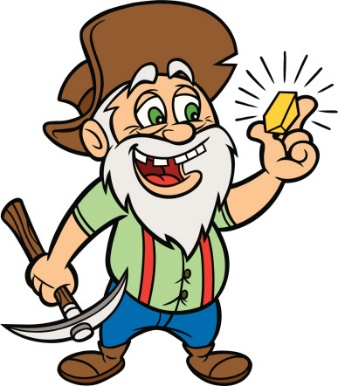 Tomah Wisconsin GPAA Chapter – February 2018
Welcome
Welcome to the 2018 GOLD FEVER Newsletter. Another year, another gold prospecting opportunity. If you have not tried to find gold, you need to give it a try. Let us know if you need help to get started, there are many people with experience that the help you.
Do not forget the Newsletter and pictures can always be found at:
www.huntforgems.com/gpaatomahwi/
President's Message
I would like to start off by saying thank you to Steve Miller for his informative talk last month I like it when all the members are engaged in a topic. The question could have gone on all day but everyone had an opportunity to ask a lot of questions the way it was. The information on where to find properties to hunt was very helpful. Now all we have to do is the research.
Still winter here I finally panned a little in my basement cleaned up one pan I had from scrapping out the bottom of my panning tub last winter. I must have dropped the dirt between the pan and the concentrates I can't believe I lost that much gold. Or maybe it was from the dirt on my table that I saved before I moved it into the basement. I don't seem to have enough time to pan in the winter yet in the summer I find a little time almost every day when it's sunny.
I also want to thank all the members that bring items for the raffle table. Make sure it is in good condition and you will get one ticket for the table raffle for each item donated.
Hope to see you at the February meeting Dave Ambroes will demonstrate the miller table he won at the Indianapolis gold show for us. Dean Race will not be coming to our club this year, he no longer has the dredging camp and says it is just too far for him to travel to Tomah. I will see him in Wausau this month and buy a few bags of his dirt you can purchase them from me if you want. See you in the creeks when they thaw Mike
.
Upcoming Events
February 3, 2018 - Wausau Prospectors – Meeting/Program – Alaska Gold by Dean Race.
February 17. 2018 - Tomah Club Meeting at Town of LaGrange Town Hall – at 1:00 pm - Dave Ambroes, Miller Table.
March 3, 2018 - Wausau Prospectors – Meeting/Program – Prospecting for Diamonds in glacial Material
March 17, 2018 at - Tomah Club Meeting Town of LaGrange Town Hall – at 1:00 pm
April 7, 2018 - Wausau Prospectors – Meeting/Program – Metal Detecting by Steve Miller
April 17, 2018 - Tomah Club Meeting Town of LaGrange Town Hall – at 1:00 pm
Tomah Wisconsin GPAA Chapter Minutes January 20, 2018
Old Business:
The January meeting was held at the Town Hall at the Town of Lagrange, 22731 Flint Ave. on Route #21 west of Tomah Wisconsin on January 20, 2018, 17 members and guests attended.
Next meeting February 17 Dave Ambroe's will demonstrate a miller table that he won at the Indianapolis gold show. Please bring a dish to pass.
New Business:
Gary and Jeanne Morrison donated the pavilion rental at Nugget Lake County Park this year. Meeting is June 16. Reservations to camp should be made early as this is father's day weekend. The phone number for the park is 715-639-5611. The park is located in Pierce County in the western part of the state near the city of Plum Creek.
Other outings to look forward to are the Wausau chapters outing to Okanagan Michigan June 1-2-3 for copper hunting, or maybe some gold exploration in the area. August outing to Snyder Park in Clark county August 3-4-5. They are also having a metal detecting outing May 12 in the Owen area. We are having a metal detecting outing May 19 site to be determined yet.
Steve Miller was the speaker for the month's meeting. He covered different kinds of metal detectors for different objectives. Some are for coin and relic hunting, some are for water and some are mostly for gold.
He brought some old plate books to compare to modern one. He got them at his local Library. They help in finding old towns, parks, and campgrounds from years in the past. He brought with him displays of his past finds, including trapper tags and Indian artifacts that he dug on private land. He says always get permission before hunting.
Steve is going to England to detect in February it is his fifth trip. One time he hunted in snow at the start of his trip and in mud at the end. There are all ages on this trip as it is a group hunt. They sleep in a converted barn and all their meals are included in the cost. No one from England is allowed in their group the guides don't want to give away their locations. They mostly find artifacts but if they are lucky they could find old gold coins.
Steve set up a table with some of his stores for sale. He was well received lots of questions were asked and answered!
Raffles:
Door prizes: Hams we forgot in December Larry Ehrenberg & Wayne Ellefson Sr
50/50 raffle - Richard Niemyjski /split with Steve for drawing his numbe
Gold Raffle - Gold Nugget: Jeanne Morrison 1oz silver round: Steve Miller Chicken Alaska concentrates bag: Richard Niemyjski Gem Bag : Larry Ehrenberg
Special thanks to all who brought raffle prizes, Thank you to all that donated items for the Table Raffle – Larry Bender, Richard Powell, Mike Fait, Lisa Fait, John Schwingle, Wayne Ellefson Sr., Gary and Jeanne Morrison, Steve Miller, Jeff Hastings, Richard Niemyjski, and Jack Card. Hope I didn't miss anyone.
Gold Price on 1/31/18 was $1,338.10 Silver Price on 1/31/18 was $17.10
Respectfully submitted by Diane North – Newsletter Editor
Tomah Gold Club e-mail: None this month
---------------------------------------------------------------------------------------------------------------------
Prospecting Tips
Crevice Sucker - From Dave Robinson
By using a basic bulb for battery acid and a copper pipe of one inch diameter for the body, you can make a turkey baster type of suction device. With the use of reducer bushings on the end you have a full line of creviceing tools from 3/8 to 3/4 diameter and by the use of couplings, you can have crevice tools from short to any length by adding on. A multiple size tool for any crack.
Moss Mining - From Dave Lammert
If you are Moss Mining, (looking for gold in the Moss that grows along streams and rivers). Take the moss home with you and let it dry out, crush it into powder and THEN sluice or pan through it. No need to wash it, tumble it, to work the gold out, (if any). Just let it dry until it can be crushed into powder.
Flood Gold - From Dennis Krupnak, California
After a heavy rain, test pan the side streams that form off the main stream channel. Many are just small diversions that flow back into the main stream. They are often good sites for fine flood gold which will be close to the surface. The best concentrations are usually at the point where the branch first leaves the main stream, but be sure to test farther down also.
Officers – elected for 2018.
President – Michael Fait (mgfait@charter.net) 715-384-9265 (Cell phone to be used only on meeting days = 715-305-8319)
Vice-President – Gary Morrison 715-316-2555
Secretary – Jeanne Morrison 715-316-2555
Newsletter Editor - Diane North (dbnorth@centurytel.net) 608-635-7031
Treasure – Gayle Fait (mgfait@charter.net) 715-384-9265
Outing Chairman – Jeff Hastings (monkeyhast@frontier.net) (608) 637-3097
Claims Director – Richard Niemyjski (richnski@frontiernet.net) 608-637-3295
State Director – Mike Flint (mwink12@excite.com) 608-372-0694
APPROVED DEALERS:
Deer field Detectors. Dealer for Whites, Fisher, Garrett, Minelab, Bounty Hunter, Detector Pro Detector & Pinpointers, Sunray Detector Accessories, & many misc. detecting accessories. Deerfield Detectors, N3091 CTY Rd. B, Hancock, WI 54943 (715) 572-1845 or e-mail stmill@uniontel.net or http://www.deerfielddetectors.com/
Wisconsin Area Clubs
The Kettle Moraine Prospectors of Wisconsin – We still meet in the Salem United Methodist Church in Fond du Lac on the second Saturday of the month, providing the church doesn't have something else on their schedule .- 1:00 PM Meetings Contact: Chuck Riel
Midstate Metal Detecting Club – meets every 3rd Wednesday at 7:00 pm at Shooters Bar and Restaurant at the intersection of Hwy 39 and 54, next to the Shell Station. Contact: Steve Miller 715-572-1845
Wausau Prospectors – meets the 1st Saturday of the month at 11:00 am at the Village Town Hall in Brokaw Wisconsin. Address is: 218 2nd St., Brokaw, WI. Take US 51 north of Wausau and take exit 197. Then go east on county road WW. At the 4 way stop in Brokaw take a right. You are there (just past the Credit Union). Contact: Kurt Bublitz 715-340-2831 or e-mail lizzy101@charter.net
Wisconsin Michigan Prospectors.GPAA Chapter – holds their meetings on the 2nd Saturday of every month at 11:00 am, at meeting location for the next few months at Newinghams Supper Club at 722 Main St. Wausaukee, WI 54177. Contact Ron Smith.
MAY THERE BE GOLD IN EVERY PAN !!!!