Gold Fever!!!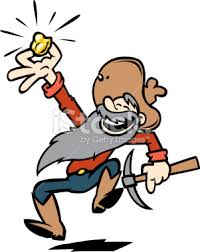 Tomah Wisconsin GPAA Chapter – November 2017
Welcome
Welcome to the 2017 GOLD FEVER Newsletter. Another year, another gold prospecting opportunity. If you have not tried to find gold, you need to give it a try. Let us know if you need help to get started, there are many people with experience that the help you.
Do not forget the Newsletter and pictures can always be found at:
www.huntforgems.com/gpaatomahwi/
President's Message
There was no meeting last month so members could attend the Indianapolis gold and treasure show. Mike and Gayle Fait, Larry Bender and Dave Ambrose all attended. Dave won a Cleanup kit I can't remember the name of. Larry won a 1.87 gram nugget. Mike won the Sunday draw for the trip to Roaring Camp mining company's free week stay at their camp. I will be going sometime in 2018. Date still to be determined.
On the first day got a hug from Stacy of North Carolina Prospectors as soon I walked in to the show. I have met her at several other gold shows and always end up buying some of her dredge concentrates this year they are from Wyoming.
I then went to the GPAA booth and talked to Richard Robinson and Dominic Ricci and purchase some raffle prizes for the club. I asked about the lectures and I had just missed the one on metal detecting. This actually turned out good because when I went to the talk on Sunday there was only one other couple in there at the start so I almost got to have Kevin Hoagland one on one for most of the hour.
Back to Saturday I managed to get to the last lecture of the day on Indiana geology, and if I can ever find the speakers card I will be sending him some of my black sand I have been saving for years to see what he can find in them.
After a good supper at the Texas Roadhouse were we also ran into the owners of Martin prospecting we went back to the hotel and fell asleep before 8 we were up since 3:30 in the morning.
Sunday attended Kevin's talk then stayed for Mike Pung's lecture on black sand classification and gold recovery. Mike classifies to 600 mesh to get all the gold he can. He says after you get to 100 mesh you have to dry all the rest of the material. Then separate it totally dry to 200-400 and finally 600 mesh. He said you cannot see gold smaller than 250 mesh with the naked eye but when you get all the same size material together you can still separate out the gold. Right after this talk stayed for another talk on from prospecting to mining. Finally had enough lectures and found Larry at the panning table and got to do a little panning myself. The panning table was probably 20 feet long and went around in a circle and you could hardly find a place to stand to pan.
Dave Ambrose showed up Sunday while we were waiting in line to get in. We got some of the free gold. I also talked to the Lady who won the trip to Roaring Camp Last year. I bought raffle prizes from various venders and bought lots of concentrates for me and some new gold hog matting.
The day was over before I knew it. After winning the trip we all went to Jocamos for pizza. Monday we left for home in the rain only got lost twice in Indy. Dave went on down to Gatesville to do some prospecting.
Submitted by Mike Fait
.Upcoming Events
November 4th – Wausau Prospectors – Meeting/Program – How to build a sucker tube by Neil Zastrow.
November 11, 2017 - Tomah Club Meeting at Town of LaGrange Town Hall – at 1:00 pm – Election of 2018 Officers
December 2nd – Wausau Prospectors – Meeting/Annual Christmas Party.
December 16, 2017 - Tomah Club Meeting at Town of LaGrange Town Hall – at 1:00 pm – Christmas Party
Tomah Wisconsin GPAA Chapter Minutes October 21, 2017
Old Business:
No meeting was held in October.
New Business:
The November meeting on November 11, 2017.
November's meeting is the second Saturday of the month November 11. It is electing time and I will talk a little more about the gold show. Please bring a dish to pass and remember, if when you renew your GPAA membership to list the Tomah club as your club to get the club credits towards raffle prizes.
Gold Price on 10/28/17 was $1,273.20 Silver Price on 10/28/17 was $16.84
Respectfully submitted by Diane North – Newsletter Editor
Tomah Gold Club e-mail:
Received 9/30/17
Hi there Prospectors,
The forming club from North Eastern Wisconsin and the Upper Peninsula of Michigan had a
Meeting September 23rd to discuss organizing and some of the processes of forming.
We did go off topic quite often, because there is quite a bit of excitement about gold
prospecting, metal detecting, rocks and minerals; so that suddenly became the subject.
The people that attended were all so very nice so when you do come we all will blend right in.
Fifteen people were in attendance and there were several RSVP's that wanted to be kept in the
loop with all the latest information. We have a contact list of about forty prospective members.
I did contact the Gold Prospectors of America about the possibility of forming under their
umbrella, and it does sound like we could possibly become a Chapter easily because we are
already doing the things that they require, and could quickly make it through the probationary
time, maybe as soon as early next year.
October meeting will be about:
A name to call ourselves.
Choosing temporary officers for the club.
Meeting Times and locations.
Formation discussion.
Potluck.
Raffles to raise funds for the club.
Maybe someone will disclose their favorite spots to prospect.
The next meeting will be October 21st at 5:00 PM at Pike River Prospecting located at N11899
HWY 141 Wausaukee, WI 53073.
Please bring a chair because do not have very many. Please bring a dish to pass for the
potluck. If you would like to donated something for the raffle or door prizes you are welcome but
it is not necessary.
November 11th meeting time and place is to be determined. (To stay away from deer hunting)
December 9th or 16th tentative date, time, place. (To stay away from Christmas and parties)
I am looking forward to seeing you all here soon.
Ron Smith
Phone 920-207-4092
Officers – elected for 2017.
President – Michael Fait (mgfait@charter.net) 715-384-9265 (Cell phone to be used only on meeting days = 715-305-8319)
Vice-President – Gary Morrison 715-316-2555
Secretary – Jeanne Morrison 715-316-2555
Newsletter Editor - Diane North (dbnorth@centurytel.net) 608-635-7031
Treasure – Gayle Fait (mgfait@charter.net) 715-384-9265
Outing Chairman – Jeff Hastings (monkeyhast@frontier.net) (608) 637-3097
Claims Director – Richard Niemyjski (richnski@frontiernet.net) 608-637-3295
State Director – Mike Flint (mwink12@excite.com) 608-372-0694
Wisconsin Area Clubs
Greenbush Wisconsin GPAA Chapter – Greenbush Prospectors meet every second Saturday of the month at Salem United Methodist Church 120 Sheboygan St. Fond Du Lac, WI. 54935 (change of time) 1:00 PM Meetings
Midstate Metal Detecting Club – meets every 3rd Wednesday at 7:00 pm at Shooters Bar and Restaurant at the intersection of Hwy 39 and 54, next to the Shell Station. Contact: Steve Miller 715-572-1845
Wausau Prospectors – meets the 1st Saturday of the month at 11:00 am at the Village Town Hall in Brokaw Wisconsin. Address is: 218 2nd St., Brokaw, WI. Take US 51 north of Wausau and take exit 197. Then go east on county road WW. At the 4 way stop in Brokaw take a right. You are there (just past the Credit Union). Contact: Kurt Bublitz 715-340-2831 or e-mail lizzy101@charter.net
Wisconsin Northwoods Adventures GPAA Chapter – holds their meetings on the 2nd Saturday of every month at 11:00 am, at the Cameron Community Center, 512 W. Main Street, Cameron, WI. Contact Dave "Wire" Heinsohn (715) 353-2261
MAY THERE BE GOLD IN EVERY PAN !!!!