Gold Fever!!!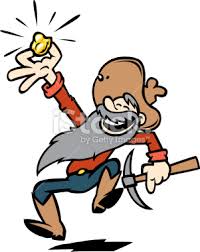 Tomah Wisconsin GPAA Chapter – August 2017
Welcome
Welcome to the 2017 GOLD FEVER Newsletter. Another year, another gold prospecting opportunity. If you have not tried to find gold, you need to give it a try. Let us know if you need help to get started, there are many people with experience that the help you.
Do not forget the Newsletter and pictures can always be found at:
www.huntforgems.com/gpaatomahwi/
President's letter
Last month Outing to Muskellunge Lake state park in Michigan's Upper Peninsula. Eight members made the trip. The park has gold in the black sands along the beach of Lake Superior. There are also agates to be found there I saw one lady that found a pretty one that was white with multiple lines. There wasn't as much black sand as the last time I was up there and what we did find had only 1/4 to 1/3 of the sand as my last visit. The park is nearly full all the time as some people leave others come. We were told that we couldn't take any black sand from the beach but could take up to 25 pounds of rock per year.
The weather was nice and cool the highest it got in our 5 days there was 72. Saturday the lake was very calm and you could pan in the lake itself or you could dig a hole on the beach to pan in. There was also some water running on the beach away from the waves were some people panned in. We also had tubs to pan in when it was ruff as it was on Thursday and Sunday. Sunday the waves were two to three feet high and 10 to 15 feet of the beach from Saturday was under water. Almost no one was on the beach Sunday so we weren't bothered by to many people then. There was another prospector there from New York most of the week.
On Friday five of us did some touristing in Grand Marias. We saw an old post office, the pickle barrel museum, the Gitch Gumee museum and agate shop, and went out of town to see the log slide overlook a site along the road were the early loggers slide their logs down into the lake to take to saw mills. It is a huge sand dune 175 feet high overlooking the lake. You are not supposed to go down it which can be done on seconds but it takes a long time to come back up. Some young people did it while we were there and they were exhausted when they got back up. We ate in Grand Marias at the west side dinner a quaint dinner with an old train dinner car as part of the restaurant. They have good homemade pizzas there, but they close at 4 so get there early if you go.
It is 19 mostly washboard sand between Grand Marias and Muskellunge Lake and it rained the night before we went every time I came to a puddle I threw sand and water all over my truck. On the way back we meet a can by one of the biggest puddles in the road the I allowed down but the truck dropped about a foot and a half when we hit the water we showered the car coming the other way as water went higher than my truck and I completely soaked the other car. Larry B. said her window was open we all laughed so hard I had a hard time breathing.
See you in the creeks Mike
Upcoming Events
August 4th, 5th, & 6th – Wausau Prospectors Snyder County Park Outing
August 19, 2017 - Tomah Club Meeting at Town of LaGrange Town Hall – at 1:00 pm
September 16, 2017 - Tomah Club Meeting at Town of LaGrange Town Hall – at 1:00 pm
September 22nd, 23rd, & 24th – Wausau Prospectors – Jacob's & Sheffler's Geode Mines Outing
October 7th – Wausau Prospectors – Meeting/Election of Officers
October 21st & 22nd – GPAA Gold & Treasure Show in Indianapolis Indiana.
Tomah Wisconsin GPAA Chapter Minutes June 17, 2017
Old Business:
The July meeting was held July 15th Outing to Muskellunge Lake state park in Michigan's Upper Peninsula. Eight members made the trip.
The Wausau outing to Snyder Park and Wedges creek. The lake is dry this year as the dam washed out so bring
New Business:
The August meeting on August 19, 2017 – Tomah Club Meeting at Town of LaGrange Town Hall – at 1:00 pm. Please bring a dish to pass. Dave Bender will demonstrate his hand pump he has attached to his gold cube.
Richard Niemyjski can rent a van that seats 15 people to go to the gold show in October in Indianapolis. We would probably leave from Viroqua on Saturday morning and come home Monday. We would need two nights in a hotel. Plus pay for the van price to be determined by how many go. Probably in the $60 dollar range? There will be a signup sheet at the August meeting or call Mike Fait or Richard Niemyjski. Numbers are in the officers lists.
Raffles: No raffle this month Gold Price on 7/25/17 was $1,249.60 Silver Price on 7/25/17 was $16.48
Respectfully submitted by Diane North – Newsletter Editor
GPAA Gold Show:
There will be a Midwest GPAA Gold & Treasure Show this year in Indianapolis. Indiana State Fairgrounds & Event Center 1202 E 38th St, Indianapolis, Indiana 46205.
There will be various national and local vendors. Of course there will be the GPAA major prize raffles along with all the vendor and chapter raffles. There's still booth space for vendors and chapters that would like to be represented. Booth space starting at as little as $200! Private message the GPAA Gold and Treasure Shows Or call direct at (800) 551-9707 ext. 168 for further details and questions. So come out and enjoy all that the gold show has to offer. Hope to see you there!!
*FEATURED SPONSOR** Snake River Products will be at the #EastCoast shows in full force, giving away huge variety of products worth over $300 in value! Make sure to check them out before, during and after the show for some of the most innovative and best products on the market today!
GPAA Gold & Treasure Show Indianapolis Indiana 2017
Information about parking and lodging
Parking:...
The Indiana State Fairgrounds charges a $5 facility charge per vehicle upon entrance to the Indiana State Fairgrounds when public events are being held. There are no In/Out privileges.
Hotels:
The Indiana State Fairgrounds recommends using www.visitindy.com for the best rates on hotels around the fairgrounds.
Camping:
The Indiana State Fairgrounds has two campgrounds – the Monon Campground and the 46th Street Campground. The Monon Campground is located on the grounds and has 174 sites and the 46th Street Campground is located just north of the grounds.
Campground rates are $35.00 per space per night. The camping fee begins when the camper enters the property regardless of the occupancy or hookup.
Camping is accepted on a first come first serve basis. There are over 300 campsites available so no reservations are required.
The following terms and conditions must be followed while camping:
• Camping stickers must be displayed on both the camper and vehicle
• Holding or flagging campground sites for other campers is prohibited.
• Camping is only allowed in assigned spaces. Campsite is for sleeping unit only. Campsite space does not guarantee enough room to park any vehicles on campsite. All personal vehicles should be parked in the 46th Street parking lot adjacent to the camping are of other designated parking areas. All other vehicles must park in designated areas. Any vehicle in violation of this condition will be towed at owner's expense.
• All campers should come prepared with 25' of water and sewer house and 25' of electrical cord to reach connections. Also adapters for 50 amp connections are recommended.
• Do not block access to other campers. Do not block roads, fire lanes, or dump stations.
• Be considerate of your neighbors. Excessive noise or any other disturbing behavior is prohibited.
• Open campfires are prohibited. Only contained cooking grills are permitted.
• All trash must be placed in plastic garbage bags, tied, and left in the proper trash containers.
• All animals must be kept on a leash. Please pick up after any animal.
• Water and sewage may not be dumped on the surfaces of the grounds.
Indiana gold show
Van rental cost's based on number of people that sigh up. If we don't get at least 9 we will drive cars down. cost 9 - $65 we can't carry anymore than 15 in the van and at that size I don't know how
10 - $59 much lugage we can take. You will also need to pay for two nights in a hotel
11 - $53 and entry to the gold show. We would be leaving from Tomah - time still to
12 - $49 be determined. If you live south east of Tomah we may be able to pick you
13 - $45 up on the way. Trip will take more than 7 hrs. Depnding on how many gas,
14 - $42 bathroom and eating stops we have will more likly be 8hrs.
15 -$39 Mike
2017 Midwest Chapter Summit
You are cordially invited to attend the Gold Prospectors Association of America's Midwest Chapter Summit on Sunday, September 3rd, 2017. This year's summit will be held at Clear Fork Adventure Resort, located at 341 Resort Drive in Butler Ohio, just a few minutes from the Swank Claim in Belleville Ohio. We have paired this summit with The Ohio Buckeye Chapter's 2017 Gold Rush Days; they have averaged over 1,200 members and visitors at Gold Rush Days over the past few years.
We will start with registration at 8:30 AM, with the summit starting at 9:00 AM until 3:00 PM. Breakfast will be served during registration, lunch will also be provided for all attending. This summit is open to State Directors, State Director Board Members, Chapter Officers, and any Chapter Board Members.
The 2017 GPAA's Midwest Chapter Summit Co-Chairman is Sonny Lucas (330)641-2694 and Jeffery W. Behnke (847)858-2526. For more information on camping, hotels, and lodging during the summit and Ohio's 2017 Gold Rush Days please contact Sonny Lucas.
Chapter summits are a great place to learn about what other chapters are doing to improve your own chapter and to make contacts from other chapters. We will have members of the GPAA staff available to answer any questions that you may have pertaining to your chapter and the GPAA.
Discussion at this summit will include but not limited to: East Coast Land Leases "Claims", Chapter and GPAA Membership, Chapter Best Practices, How to Grow Your Chapter, and several other topics including all of your questions and concerns.
Thomas Fowlkes
Indiana State Director
Officers – elected for 2017.
President – Michael Fait (mgfait@charter.net) 715-384-9265 (Cell phone to be used only on meeting days = 715-305-8319)
Vice-President – Gary Morrison 715-316-2555
Secretary – Jeanne Morrison 715-316-2555
Newsletter Editor - Diane North (dbnorth@centurytel.net) 608-635-7031
Treasure – Gayle Fait (mgfait@charter.net) 715-384-9265
Outing Chairman – Jeff Hastings (monkeyhast@frontier.net) (608) 637-3097
Claims Director – Richard Niemyjski (richnski@frontiernet.net) 608-637-3295
State Director – Mike Flint (mwink12@excite.com) 608-372-0694
Wisconsin Area Clubs
Greenbush Wisconsin GPAA Chapter – Greenbush Prospectors meet every second Saturday of the month at Salem United Methodist Church 120 Sheboygan St. Fond Du Lac, WI. 54935 (change of time) 1:00 PM Meetings
Midstate Metal Detecting Club – meets every 3rd Wednesday at 7:00 pm at Shooters Bar and Restaurant at the intersection of Hwy 39 and 54, next to the Shell Station. Contact: Steve Miller 715-572-1845
Wausau Prospectors – meets the 1st Saturday of the month at 11:00 am at the Village Town Hall in Brokaw Wisconsin. Address is: 218 2nd St., Brokaw, WI. Take US 51 north of Wausau and take exit 197. Then go east on county road WW. At the 4 way stop in Brokaw take a right. You are there (just past the Credit Union). Contact: Kurt Bublitz 715-340-2831 or e-mail lizzy101@charter.net
Wisconsin Northwoods Adventures GPAA Chapter – holds their meetings on the 2nd Saturday of every month at 11:00 am, at the Cameron Community Center, 512 W. Main Street, Cameron, WI. Contact Dave "Wire" Heinsohn (715) 353-2261
MAY THERE BE GOLD IN EVERY PAN !!!!