Gold That I Collected On My Vacations !
Click on the thumbnails to enlarge the picture
These first seven nuggets are from the Thermal City Gold Mine in North Carolina



This is all the nuggets I found so far.





I found these by the Scott river on the 49ners claims back in 1997 there is gold and Platinum here. I found these with my White Gold Master 3. To see the gold you have use a magnifying glass to see it.
Theses fines came from Sullivan Creek in WA

Fine Gold from thermal City NC Theses fines on the right came from Clear Creek in CO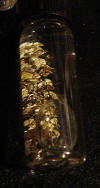 Theses fines came from Thermal City Gold Mine in NC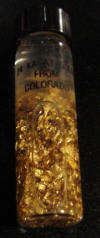 24k gold from Colorado
These samples came out of the Flambeau Mine by Ladysmith WI. These pieces have Gold, Silver and Copper in them.

The top three samples came out of the Flambeau Mine by Ladysmith WI. The bottom one is from the Champion Mine, Champion, MI