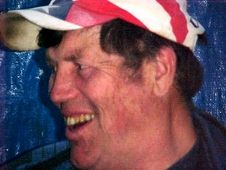 My Bio by Mike Kyle
My name is Mike Kyle and I live in Ione, WA. It is in the far NE corner
of Washington near the Canadian border. I was born and raised in Oregon
and lived there for 30 years. I am a Widower and have lived alone the
past 10 years. I have 4 grown kids with kids of there own.

I am 62 years young. I worked for the Telephone company all of my life
and retired 3 years ago.

I started hunting for rock as a cub scout. We had a scout master that
Introduced us to rocks at a very early age. When I got back from Veit
Nam in 1966 I bought a 10 saw that laid flat. You took the blade of and
put on the sand paper and such quite a hassle but it was a wonder thing
at the time. I took my larger stuff to a buddy and he cut it for me.
Well over the years I have progressed a bit. I enjoy hunting rock more
than ever. I recently bought a GENIE to cut cabs with which is a joy
to work with.