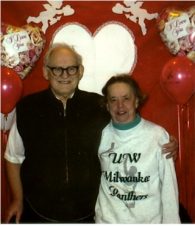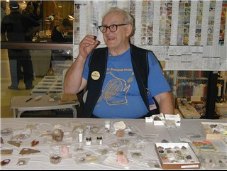 My bio by Lloyd Brown
Born March 26, 1927, to Alfred & Irene Brown at Tichigan Lake in the Town of Waterford in Racine County. My father was a dairy farmer & specialized in raising sweet corn, chickens & eggs for the fresh produce markets in the Milwaukee area. I attended a one room rural graded school & then Waterford High School. I served as a low speed radio operator in the US Army in WW-II & was stationed in a combat engineers battalion in northern Italy on occupation duty in 1946. There most of my duties were as a switchboard operator rather than radio work. I attended the University of Wisconsin in electrical engineering, but did not complete my studies. I also took extensive Tool & Die Making courses at the Milwaukee Area Technical College. I also completed a series of courses on Industrial Electronics there. As an audit student, I have taken almost all the courses required for a degree in geology at the University of Wisconsin-Milwaukee. I was employed as a machinist, production foreman, production control supervisor, scheduler, Time Study engineer & a planning foreman at the Allis-Chalmers Corp. in West Allis. I took early retirement at the age of 56, but worked part time until 65 for two ex-Allis-Chalmers employees who had begun their own machining business. My interest in rocks was kindled when I was in Italy. My radio room buddy was a young rockhound. I was married in 1952 & my wife Ellen & I have three children; a son & two daughters. We traveled through out the 50 states & 11 of the 12 Provinces of Canada. Extensive collecting of rocks, minerals & fossils began around 1969. My wife & I joined the Wisconsin Geological Society (WGS) in February 1974 & are charter members of the Mineral Study Group which began in February 1974. I have been leader of the study group since 1975 & have taught it since 1977. My wife & I were instrumental in reviving the WGS Fossil Study Group in 1982 & I have taught it since 1985. Some of the positions I have held in WGS include president two years, treasurer, director, liaison, & publisher of the club bulletin for over 20 years. I was the field trip leader for about 20 years & led one half day to two week long field trips to Wisconsin, Illinois, Indiana, Michigan, Ohio, Kentucky, North Carolina, Arkansas, Missouri, Iowa, Minnesota, South Dakota, Montana, Wyoming, Utah, Colorado, Nebraska, & several trips to Ontario & Quebec in Canada.
I was the General Convention & Show Chairman for the 1984 Midwest Federation (MWF) Convention & Show held in West Allis, Wisconsin. MWF positions included a member of the nominating committee, six years as Safety & Field Trip Committee Chairman, & Assistant State Director-Wisconsin. I was also a member of the American Federation Safety Committee. My wife has been WGS president three years, Annual Show Chairman for two years, & numerous other WGS positions. She was on the MWF credentials committee for about ten years. She was Assistant State Director-Wisconsin for about a dozen years. We both are part of a four to six person group from WGS which provides free geology programs for area schools. We have been doing this since 1978 & Ellen has been the leader since 1988. Ten years ago we both were voted to Honorary Membership status in WGS. A maximum of one person may be elected to this position in any calendar year, so they made me an Honorary Member in December & Ellen Honorary Member in January of the next year. WGS only has 5 Honorary Members, Ellen & I have been Honorary Members for longer than all but one other & have been WGS members for the shortest time. I joined the Racine Geological Society about ten years ago & am currently a director there. My number one interest is in minerals, but I also am strong into fossils. I have a lesser interest in lapidary, I have all the equipment necessary for most lapidary projects, but not the time. My mineral collection has over 1000 different mineral species in it. the fossil collection has close to 500 different species represented. Boxes of lapidary rocks await cutting & polishing; if & when I find the time. Ellen & I traveled to England, Wales, Scotland, Northern Ireland, the Irish Republic, Germany, Luxembourg, & part of Belgium, Austria, & France. Little time was available for collecting but we did manage to find a few nice specimens.

We live in Wauwatosa, Wisconsin in the home we bought when we were wed in 1952. Our three children still live with us. Our oldest daughter is multiply handicapped. Our son has a Masters Degree in Economics & our youngest daughter a Masters Degree in Business Administration. Both work in banking. Ellen & I love to travel, but providing for someone to care for our handicapped daughter restricts us some when we fly to a destination like Hawaii. For trips in the 49 & Canada, there is no problem because we take her with us.


Enjoy the weather. Lloyd.