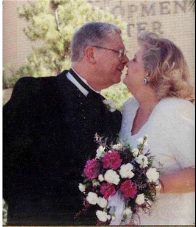 My BIO by Larry McAuley
FIRST START
I started 'collecting' at about 8. By 'collecting' I mean that I picked it up and didn't throw it immediately. My dad would have a load of driveway gravel dumped in our drive (it was a dirt/mud base) and I sifted through all the rocks there. I would often find fossils of shellfish. Of course I did not have a clue about what they were, but the occasional finds went into the Roi Tan cigar box along with the other 'treasures' I would find. A bird egg, a piece of clover, a rusty key, and the occasional horned toad, much to my mother's fear of creepy crawly things.
MORE THAN LOOK
It wasn't until 13 years or so later that after my return from overseas, that a Captain took me under his wing and showed me the base craft shop, and I picked up my fascination with rocks again. I would buy slabs from the craft shop and trim them before going to the grinder. It was an enjoyable past time and beat the heck out of the drinking that had become my regular past time.
FATHER AND SON
After I left the service I did not do anymore work on rocks until about 1985 or so when I purchased a cheap tumbler for my son and I to share to learn to tumble polish rocks. It was one of the poor quality ones that Michael's sells, but it served its purpose to keep him entertained for a summer. Our last attempt was to try and polish tiger-eye and apache tears in the same load. Of course that didn't work but I didn't know why. We visited a local rock shop and purchased more grit and a few additional stones to go with it. I still have a couple of pieces of the tiger-eye that he and I did. After the last load the tumbler started leaking and no manner of cleaning would stop that leak so we abandoned all future projects.
BEST DAY EVER
On Sept 11, 1999 got married to Elisa. We had both had rotten marriages before and dated for 9 years before we committed to wed. My son (now 21) served as my best man. As a wedding gift we received a couple of quartz crystal clusters. Very nice and very pretty.
HOW IT STARTED THIS TIME
Sitting and watching TV one night I began just staring at the clusters and Elisa asked me what I was looking at and I told her about working with rocks while in the service. Her statement 'You need something to do. Why don't you start doing that again if you enjoyed it?" She had no clue at the time what she was saying, nor did I. I started with one three-pound Lortone tumbler, trying to remember all the 'rules' for tumbling rocks. While looking for different rocks to polish I met a man who had a bunch of tumblers stacked around his shop that were not 'running'. Two 15 pounders, two 4.5 pounders, and one airplane tire tumbler that used 5 rubber plugged airplane tires. I asked how much and he said $75 plus the grit and rough I had originally gone out there to buy. The airplane tire tumbler would not fit in the car and I thought he was very nice for delivering it to me. (I couldn't see his wife dancing as I left his shop.) Most of the tumblers just needed a little oil and they were running again. The airplane tire tumbler was a little more complex and even today I don't have it up and going. If I ever find a sucker to take it my wife will be dancing on the porch as they drive away. LOL
One 15 pounder needed a motor another needed bearings. He had run them so long that the shaft had worn its way into the bearing and frozen to the bearing casing. (He is a nice fellow but he didn't believe in oil. All tumblers are still in operation except the airplane tire tumbler. I still have a few minor odds and ends to figure out on it. A few months later I had a 6" trim saw and had started collecting my own Pet Wood from around the area. Then a 10" slab saw came. Then an All-YOU-Need 6". I have used it so much I have worn out the diamond on several of the plates. I followed with a 5-wheel grinder with a polishing pad on one end. Hooked it into a water supply and set it in the garage. It sometimes gets too cold to work out there especially when the water is misting up and adding additional coolness to the air.
I joined the local club, Austin Gem and Mineral Society, and started going on field trips with them. My wife's only comment since was, "Why do you want to go rock hunting and bring home more petrified wood?" How do I answer that? It is like being an alcoholic (I am) One is too many and 1,000,000 is not enough. Same with rocks. I was able to set an 8' x 12' workshop in the back yard last year and have the saws and the tumblers running out there.
Bless her heart, my wife recently agreed that I need an 18" or larger saw. I can go to the club occasionally and slab some rock but that is a 20 mile drive one way so I have to establish a time when their shop will be open with enough time set aside to cut a significant amount of rocks. I need my own large saw and will trade with anyone who is into sports cards. I have over 150,000 of those from 1952 forward.
WHAT I COLLECT
I collect fossils, and I have the most interest in the big four. Fish, trilobites, meg teeth and dinosaur bone. I love Morrisonite Jasper, opal, wood and Montana Agate, although I would take about anything. I won't work malachite. It is just a bit too dangerous. My preference to work is Imperial Jasper and Morrisonite. Both are very hard and take a beautiful polish and have a depth of beauty you just can not put into words. I still have a lot to learn about cabbing and getting a consistent dome on the rock I am working on it though. I also have a fascination with mahogany obsidian.
I also have a few thumbnails, but mostly because I felt a need for them in my collection or they were gifts from friends in the rock world. Tommy sent me garnets in and out of matrix so I thumbnailed those. I like fluorescence too and went on a spree last year for Franklin materials. Wound up with about 8 pieces.
Mostly I just enjoy the hunt with friends and family. Being outside for a while. Finding that special piece of wood or agate. A piece that I will remember when and where and with whom I found it.
ALL TIME FAVORITE
What I enjoy most about the hobby is tumbling petrified wood and giving it away as miracles. (Only God can make a tree and only God can change it to stone.) I have collected some amazing stories of interaction with people I know and people I never met but the one time to give them the miracles. I tell people that God shows me where the wood is and I have to give it away. The rocks themselves hold no power, but they are a reminder of the power of God and help people to remember their faith in those times of need. It is a wonderful feeling. Elisa says that they are my ministries. I think they are more of my paying past debts for my sins.
THINGS I WANT TO LEARN.
I want to learn how to silver smith for my own settings.
I want to learn how to carve.
I want to develop more skills in faceting.
PLACES I WANT TO GO.
To see my rockhounding friends wherever they live.
Montana for agate.
Arizona to look around in the desert for what ever I find.
The Pinnacles in California for Elisa to see.
Labrador for labradorite.
Ore(rock)on for jaspers.
Franklin, NJ for florescent.
Florida for black coral and meg teeth.
China for dino eggs and plate fossils.
The Baltics for amber.
Utah to hunt for fossils.
Utah to Topaz Mountain.
Lighting Ridge for Opal.
Mexico for coconut geodes.
Arkansas for crystals. (Diamond or Quartz).
Bryce Canyon just to see.
Tucson for EVERYTHING ELSE.
I'm sure there are others but they escape me right now.
FINAL THOUGHTS
I enjoy this hobby and it had helped me keep my sanity in an ever-changing level of state jobs. I have been with the state for 21 years and need under two years to be eligible to retire, but there is no longer a guarantee that will occur and that is stressful. Working rock is a great stress reliever.
We are moving into Spring and watching new life bud from the trees and break through the ground is most satisfying. In the past two years after a heart attack and a stroke there were times (and still are) that I fear being by myself, but the knowledge that I have friends around the world that share the same love for rocks and nature that I do is a comfort. I felt and still feel that I have the choice of sitting on my butt and wait to die or to go back out and walk the back roads. Face to the ground, back of my neck getting pinked up from the sunshine. Finding that occassional gemmy piece of pet wood or agate. Seeing the occasional snake or deer or skunk or dog running down the road. Feeling the sweat dripping off my face and smiling when you find that unique piece of rock. So I hit the roads and monitor every twitch, ache, pain until I step out on that road and all the cares and worries fade away. Life is good and each day is a new blessing to me.
Thanks to Bob's Rock Shop and now Rocknet that have introduced me to rock hounds around the world and I have developed some really fine relationships with people I have never met. Thanks Bob and Thank Mike for offering a location to ask questions and share information. It is very much appreciated.
I wish I had more time to get online everyday and see what is happening in the rock world but I generally have projects at work and at home that take up most of my time. I have a shelf of rocks and minerals at my desk and I get comments almost daily about the various items on this shelf. Most people are amazed that we have so much petrified wood around this area, and some just come short of calling me a liar when I tell them where I found it. Latest I heard was that Texas had more square acreage of Petrified Wood than any other state. Regardless of what Tommy thinks there is still plenty to go around. LOL
Thanks for reading this and KOR.
3/11/04
Larry McAuley