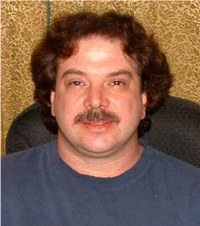 My Bio by Jay Loch
My name is Jay Lynn Loch and I was born in Massillon
Ohio in 1961. I currently still live there and am
remarried to the love of my life Dianne! We have three
children between us Jodi 28, Jon 21, Peter 14,
Christopher 12, and Kathryn 10.
I have always loved rocks and minerals but first
got bittin by the bug when my wife dragged home a
small pile of rough and findings from here uncles
house(1997). I bought a Lortone rotary tumbler to
finish off what he started and have still not stopped!
A few months after that I bought a old lapidary unit
from our local rockshop that had a 6 inch saw, 100 and
220 grit carbide wheels and buffing pad on the end.
About a year later, I went to an auction about a mile
from my house. I hit the jackpot there! I dragged home
three truckloads of rough, mineral specimens, old
lapidary units, 18 inch diamond saw, 24 inch flat
lapper, FL specimens from Franklin NJ, and many old
lap magazines!
I still do a little lapidary but mostly collect
crystalized mineral specimens, especially fluorescent
ones! I love to take my family out to self collect and
an currently my clubs ( Stark County Gem and Mineral
Club ) field trip leader.
In 2001 one I puchased a mineral collection from an
estate in PA. I had lots of extras, duplicates, etc.
to get rid of and started having my wife Di sell them
on ebay. Up untill that point I was always getting
yelled at for leaving rocks around the house, now she
has bigger piles laying around than I do! If you ever
want to check out here sit its at www.lochsrocks.com
Thanks for reading my Bio and Keep on Rockin!