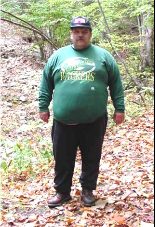 My Bio by Carl Mauritz
I lived in Tigerton, Wisconsin for the past 30 years. Iím 49 years young, single and Iím disabled from a work injury. I love to fish, hunt, and hunt for Gems & Gold, and travel the country when I can and go camping.
I got started in the rock-collecting hobby in 1995 when I went down to NC job hunting. I was staying at my sisterís home and she took us to a Gem mine Ė pay site, and I was hooked LOL. I have read lots of books on Gems and Gold to learn everything I could about this hobby. I now go to Burnsville NC twice a year to visit my sister and go rock hunting.
In 1996 I meet a friend from Bobs Rocknet and we became good friends. He stopped in on his way out west and told me about a guy in Upper MI that had his rock shop up for sale so I called Bob and made a deal with him to buy he shop. So then we went up there to get the shop stuff and with it I got a cab machine, a Graves Mack 1 faceting machine, etc.
At first all I did was cab for I know nothing about faceting. I joined some faceting clubs on line and meet Jack Sager and Jerry Crapps from WI to that had talked me thought on faceting so I started to read about it and decided to try it. I taught my self how to facet by reading books and from the faceterís guides. Iím still a green horn but getting better at it. This year 2004 I bought a new facet head from Gearloose Ė Jon. It is a XS3 faceting head and man she is a sweetie. KOR